Our Approach
We bring an understanding of language learning to help improve communication through iconic languages.
You can call this "Our philosophy" or "Our vision." We want to:
Improve communication through iconic languages
We're developing a complete iconic language and the technical tools and apps to make it an effective communication tool. We know language learning; all of us speak multiple languages. And we hope to aid in improving your information exchanges.
Our Story
The beginning of our story is rooted in language learning and the frustrating experience of not being able to communicate even when knowing several languages. We saw the opportunity for the birth and use of an advanced iconic language - one that allows a high-level communication,
with a sound linguistic background study, and that also exploits the clarity of modern computer icons. Communicating with Icons can be precise, engaging and fun!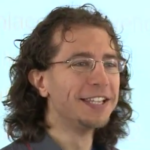 Cesco Reale
Project Founder
Flaviano Tarducci
Sales
Jonathan Gockel
Finance Lead
Italian in Switzerland
Engineer and communicator
World Polyglot Gathering committee
UN representative of the World Esperanto Association
10+ languages
Italo.-Argentinian in Italy
Business development, sales, strategy
+6 years of experience in Startups and Charities
Italian, English, Spanish
Frenchman in France
Expert in fundraising microfinance and digital advocacy
7 years of experience public affairs and international NGOs
French, English, Spanish
Academic recommendations
Siska Fitrianie (former researcher in iconic languages, postdoc in Interactive Intelligence Group, Delft University of Technology, The Netherlands)
Michele Gazzola (Lecturer in Public Policy and Administration at the School of Applied Social and Policy Sciences, University of Ulster, UK; editor of the journal "Language Problems & Language Planning").
Federico Gobbo (Professor of Interlinguistics and Esperanto, University of Amsterdam, The Netherlands)
Raphaël Maître (Linguist, Univ. of Neuchâtel, Switzerland)
Dario Martinelli (Semiotician, Vilnius Gediminas Technical University, Lithuania)
Daniel Peraya (retired professor of University of Geneva, creator of the Iconomètre)
Stefano Rezzonico (Linguist, Prof. at Univ. Montréal, Canada),
Elisabetta Zuanelli (expert in iconic ontologies, Professor of Digital Communication, University of Roma Tor Vergata, Italy)
If you want to know more...
Send us a note. We are looking for dynamic individuals motivated to improve communication across cultures to help move our project forward.